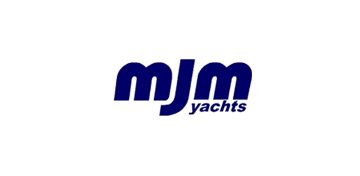 Below the surface of these elegant beauties are a number of modern technologies that make these boats easier to handle, more fuel-efficient, safer, longer lasting and more seaworthy. These yachts are meticulously built in America, without compromise, by Boston BoatWorks. They are lighter, stronger and longer lasting than conventional fiberglass boats and are the only boats in their class specifically designed to maximize fuel efficiency-making MJM Yachts the smartest buy of any motor yacht on the market.
Current Models
50z

The MJM 50z is an eco-smart game-changer featuring advanced composite construction, an innovative layout and the latest stabilizing technology. Her stronger, lightweight epoxy construction results in a very low vertical center of gravity. That translates into greater stability, ISO-certified Category A seaworthiness, and an impressively comfortable ride. MJM 50z is the first motoryacht worldwide to offer the "no roll" Seakeeper Gyrostabilizer as standard equipment. Adding...

Model:

50z

Year:

2017

Length:

50 ft

LOA:

55.25 ft

Beam:

15.00 ft

Draft:

3.83 ft

Details

40z

The MJM Yachts 40z is an eco-smart, thoughtfully created game-changer built with advanced composites, having an innovative layout and superior handling. Her strong, lightweight wet pre-preg, post-cure, epoxy/Eglass/Corecell hull results in a very low center of gravity, which translates into greater stability and seaworthiness as well as an impressively comfortable ride. Along with the Nordhavn 40, she is one of only two 40' yachts ISO...

Model:

40z

Year:

2017

Length:

40 ft

LOA:

44.17 ft

Beam:

12.00 ft

Draft:

3.25 ft

Details

35z

MJM introduces what other outboard brands have sought to achieve… a combination of performance and comfortable all-weather, family boating in a stunning design having great versatility. 35z's fuel efficiency, 50+ mph speed and 300+ mile cruising range is achieved with twin 300's and only 250 gallons of fuel capacity where competing designs need triples and 400 gallons for the same results. There are two explanations:...

Model:

35z

Year:

2017

Length:

35 ft

LOA:

35.50 ft

Beam:

11.00 ft

Draft:

32.00 ft

Details
Classic Models
29z

Lets the Outdoors In. The reason we go boating is to get outdoors and enjoy the fresh air. The 29z Models accomplish this in spades by having large StrataGlass pilothouse side windows that roll up and are strapped in place. One additional benefit of this configuration is the ability to lean out from the wheel to loop a midships dockline over a cleat on the...

Model:

29z

Year:

2016

Length:

29 ft

LOA:

32.33 ft

Beam:

10.17 ft

Draft:

2.33 ft

Details

34z

Perfect Size. 34z is ideal for a couple downsizing from larger power or sail: Still large enough a yacht to seat 3 couples in protected comfort and for safe passage in offshore waves, yet light and narrow enough for unassisted docking and single-handed operation. This is truly a powerboat that will keep people boating together through shared adventures on almost a daily basis.

Express offers an...

Model:

34z

Year:

2016

Length:

34 ft

LOA:

37.33 ft

Beam:

11.00 ft

Draft:

2.33 ft

Details

36z

The 36z Express model offers a styling option for those who may prefer added solid glass on pilothouse sides, either for the looks, for operation in rougher waters to provide ventilation without having to keep the StrataGlass side opening curtains down, or for a bit more security with small kids climbing up on pilothouse settees. Apart from the design of these pilothouse side windows, the Downeast...

Model:

36z

Year:

2016

Length:

36 ft

LOA:

39.33 ft

Beam:

11.00 ft

Draft:

2.42 ft

Details
New Boat Inventory
Appears your boat is not here. Tell us what you're looking for and our team of boating professionals will find it for you.
Top