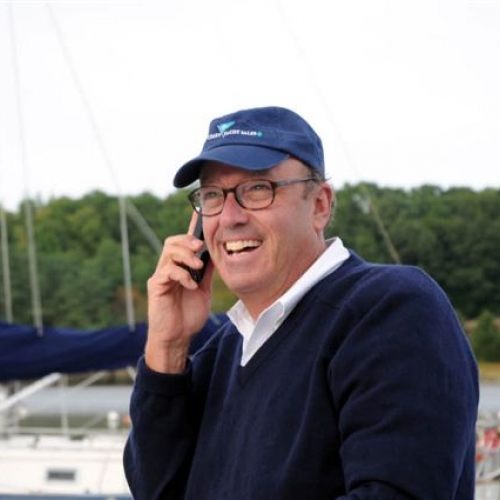 JON KNOWLES – VICE PRESIDENT
---
Jon grew up sailing out of the local boatyard and the Portland Yacht Club in Falmouth, Maine. Any chance to get on the water was always an opportunity taken. Racing with boatyard customers, delivering boats, cruising the Maine coast; all were part of summers growing up.
After graduating from the University of Maine with a Marketing/Management degree Jon ran a ferry in Portland, Maine before setting sail for the Caribbean on a 35′ sailboat with college friends. He was the mate aboard a 72′ Herreshoff built in 1913 in the charter trade sailing the Virgin Islands. In 1977 he sailed to Norway aboard Schaefer Marine's 55′ test vessel for a seven month circumnavigation of the North Atlantic.
Jon returned home to work for a local oil company but soon became the yacht sales manager for Handy Boat in Falmouth. In 1986 he opened East Coast Yacht Sales as a new boat dealership and brokerage operation. Jon has sold hundreds of new and used power and sailboats from 24′ to 100′ over the last 35 years. He has been an active member of the Portland Yacht Club for over 30 years, Commodore of the club in the early 90's along with being an early active member of the Yacht Architects and Brokers Association.
Jon has raced to Bermuda on various boats including skippering his own in 2008, raced to Halifax with customers and raced doubled handed in the last two Halifax Regatta's. His highlight in racing was crewing aboard a 55′ Tripp design with his son onboard for the 2001 Jubilee Regatta in Cowes, England for the 150th anniversary of the America's Cup. He has also stopped to enjoy his family'; sailing on two offshore adventures sailing from Maine to Trinidad in 1996; and from Maine to Labrador, circumnavigating Newfoundland in 2000.
Today he spends his time selling, managing four offices, being on the water whenever possible and dreaming of future adventures aboard Abracadabra. When he is not sailing he enjoys skiing, biking, rowing and working in his shop.