---
2024 Targa 37' (11.28 m) 37
Yarmouth, Maine, United States
Stock 1 Targa 37

The Targa 37 boat takes you to your destination in unparalleled comfort and safety. It carries several passengers with ease, and is elegantly furnished with separate cabins to ensure privacy and comfort on board. Inventory boat on order for delivery 2024. Contact us for more info!
Express Cruiser
Power
New
Diesel
Fiberglass Hull
Stock #: T37-1
Vessel ID# 2800167 Last Updated: 2023-11-08 16:52:02
FEATURES:
Twin Volvo D6-440 HP Engines
Volvo Penta DPS and Joystick Docking
Coupe version
Generator
Diesel cabin heater and air conditioning
Notable Upgrades:
Specifications
Stock #: T37-1
LOA: 40' 6'' (12.34 Meters)
Type: Power- New
Year: 2024
Beam: 11' 5''
Draft Max: 3' 6''
Cabins: 2
Sleeps: 5
Single Berths: 1
V Berths: 1
Double Berths: 1
Heads: 1
Maximum Speed: 40 Knots
Cruise Speed: 31 Knots
Fuel Type: Diesel
Hull Material: Fiberglass
Hull Shape: Displacement
Fuel Tank: 356.63 Gallons (1350 Liters)
Fresh Water: 60.76 Gallons (230 Liters)
Holding Tank: 31.7 Gallons (120 Liters)
Imported: Yes
Builder: Botnia Marin
Full Details
Technical Data
L.O.A*
12,36 M (40,6')
LENGTH (HULL)
11,25 M (36,9')
BEAM
3,50 M (11,5')
DRAUGHT
1,10 M (3,6')
WEIGHT
APPROX. 8200 KG
FUEL TANK
1350 L
WATER TANK
230 L
HOT WATER BOILER
20 L
HOLDING TANK
120 L
ENGINE ALTERNATIVE
2 X D4-320 (470 KW, 640 HP)
2 X D6-340 (500 KW, 680 HP)
2 X D6-380 (560 KW, 760 HP)
2 X D6-400 (588 KW, 800 HP)
2 X D6-440 (648 KW, 880 HP)
2 X IPS500 (560 KW, 760 HP)
2 X IPS600 (648 KW, 880 HP)
2 X IPS650 (706 KW, 960 HP)
TOP SPEED
30-38 K.T.
CRUISING SPEED
(2X380 HP) APPROX. 32 K.T.
FUEL CONSUMPTION
(2X380 HP) APPROX. 3,1 L/N.M.
Standard Equipment
Bridgedeck box behind pilothouse
Antifouling
Handrails s/s on both sides of pilothouse roof
Lockers/seats in aft deck corners
Tip-up opening in teakrail, STBRD & PT
Urethane foam in stringers, hull sides & under berths
Sun curtains polarized for front window & doors
Curtains for aft side windows & aft window
LED floor light in pilothouse, aft & fore cabin
Targa dinner service for 6
Interceptor trim tabs
Fire extinguisher automatic in engine room
Fire extinguisher manual, 2 pcs
Swimming platform with D-fender list & ladder
Targa bar s/s with running lights, foldable
Targa floor mat, dark blue, 2 pcs
Searchlight adjustable from pilothouse
Windscreen wipers
Defroster/heater from engine
Horn, pilothouse & flybridge control
Galley incl. water tank, sink & gas cooker
Bow ladder, foldable
Teak table for fore & aft deck
Flybridge for 3 persons
Carpet with trim in aft & fore cabin
Portlights 2 pcs, non opening in hull s/s
Magnetic compass, pilothouse & flybridge
Mooring rope 10 m 6 pcs & fender + cover 6 pcs
Toilet in aft cabin, electrical seawater flush
Bow thruster (80 kg thrust) incl. back-up battery
Refrigerator s/s 65 L
Water heater 20 L
Microwave oven 230 V, in cupboard behind driver's seat
Shore power, battery charger 50 A & inverter 2000 W
Outlets 230 V 7 pcs, USB 6 pcs & 12 V 1 pcs
Work light 55 W, 2 pcs
LED light cable under "roof cap"
Start battery 120 Ah GEL
Service battery 3 x 120 Ah GEL (with cross-over switch)
Bilge pump automatic 4pcs & bilge pump manual 2 pcs
Selected Optional Equipment
2X D6-440/DPI
Volvo Penta Joystick Docking with aft station
Volvo Penta DPS
Galley behind driver in Corian
Comfort Fore Cabin, V-berth or double berth (CFC)
Toilet in fore cabin, incl electrical toilet (in addition to std toilet in aft cabin)
Coupé (C) version: straight roof, without flybridge, extended roof (price reduction)
Aft Door Coupé (AD C) version: glass door, straight roof, without flybridge, extended roof
Non-standard colour: hull (e.g. dark blue or grey), single or double waterline
Teakrail extended width around aft deck
Large "Bridgedeck box" behind pilot house (in combination with AD, instead of std small)
Teak deck complete (laid teak with caulked seams)
Teak on aft deck lockers/seats / 2 pcs
Teak on "Bridgedeck box" behind pilothouse
Teak on upper fore deck, between bow rails
Teak on whole swimming platform (inspection hatch with outdrives, no hatch with IPS)
Name decal on boat
Sun shade for aft deck, canvas & 2 pcs s/s stanchions
Black Line complete - Black Line "mask" (A.15.a) with exterior s/s parts powder coated black
Angled teak box for chart plotter in front of steering wheel
Damped driver's chair KAB Sentinel mechanical 60 mm damping (instead of std chair)
Arm rests 2 pcs & neck rest for KAB chair
Teak slats on berth hull sides in fore cabin / double berth in extended fore cabin
Portlights hull opening s/s / 2 pcs (instead of std non-opening 2 pcs)
Portlights hull opening s/s / 2 pcs extra (in addition to std non-opening 2 pcs)
Roof hatch sliding Lewmar Pilot h 78 incl sun shade & mosquito net (only without flybridge)
Contemporary interior
Salt water pump & tap in galley 7 L/min/1,4 bar (in addition to std fresh water tap)
Electric induction cook-top, two cooking zones, 230 V (instead of std gas cooker)
Electric oven with grill & microwave oven functions, 230 V (instead of std 230 V microwave oven)
Fridge/freezer box with double thermostat in "Bridgedeck box"
Shower doors, glass (instead of std shower curtain)
Cabin heater diesel, Eberspächer D4
Shower on aft deck/swimming platform from galley pump fresh water cold/hot
Air condition M, Webasto BlueCool S-20 (20 000 BTU), blower vents in all cabins
Mastervolt Mass Combi Ultra 12/3000 W-150 A inverter/charger (instead of CombiMaster 12/3000-100)
Generator 6 kW, Fischer Panda 8000i PMS, 2200-2800 RPM
Mastervolt Mass GI 3,5 isolation transformer, against corrosion & electrical disturbance
LED lights: fore deck, aft deck & side gangways, 20 pcs (in addition to std LED-cables)
Long range running lights LED round - W-Light Booster 3 x 70 W, Ø 180 mm, on pilothouse roof
Electrical search light Jabsco 255 SL dual beam (instead of std manual search light)
Fuel decontaminator (microbe strainer) / 2 pcs
Active Corrosion Protection (ACP) for DPI
Windscreen wash system for std interval wipers /3 psc
Remote control wireless for anchor winch & bow thruster
Anchor winch on bow STBRD electric Lewmar V3 Gypsy/drum (1000 W)
Propeller holder fitted in engine room
Propeller pair "H" for Volvo Penta DPI
Targa 37 Layouts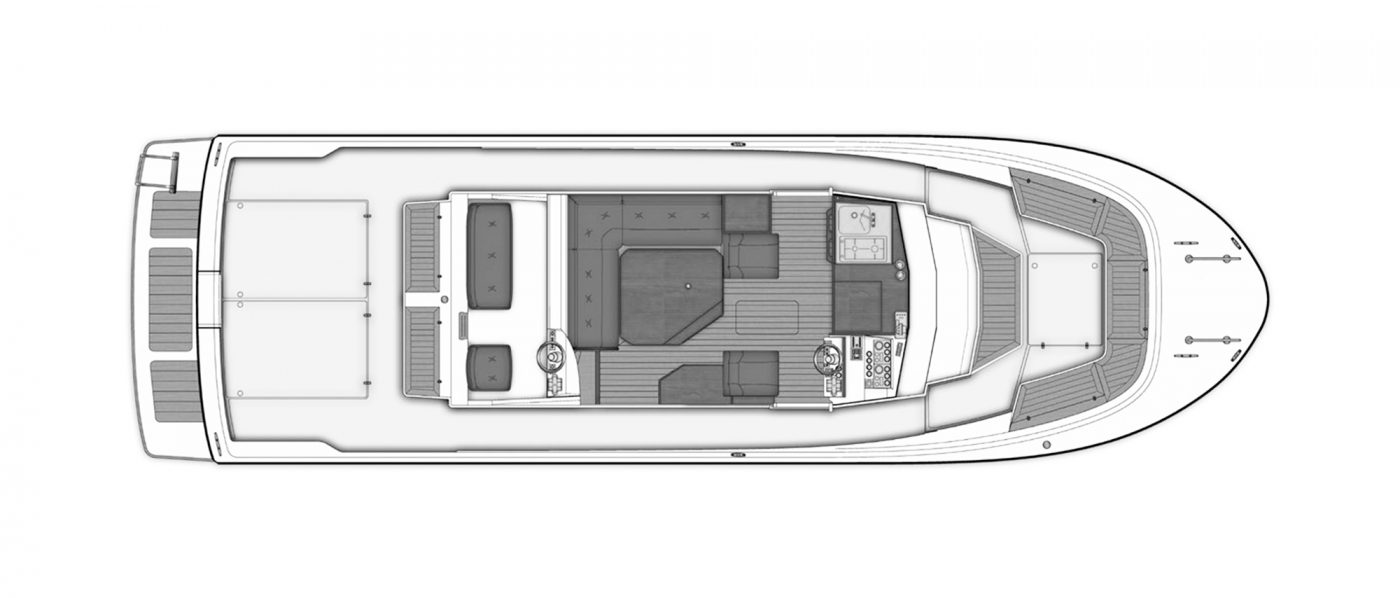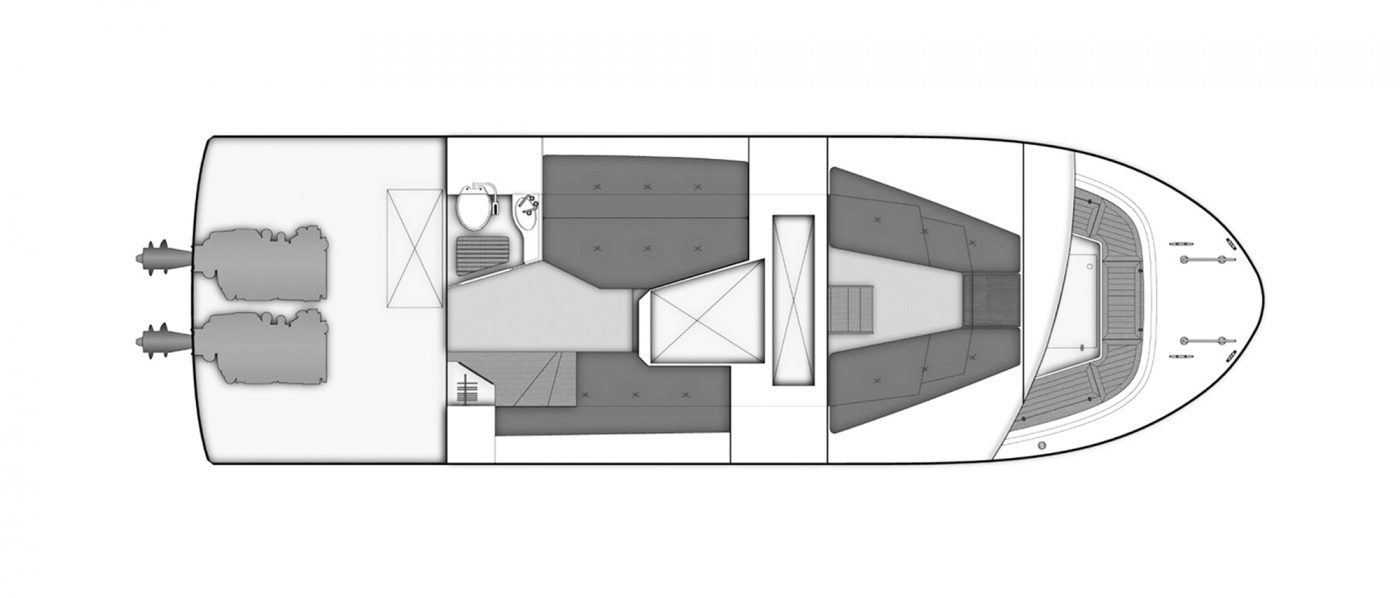 Ben Knowles
Yacht Broker
106 Lafayette Street
Yarmouth ME 04096 USA
Office: 1-207-846-4545
Cell: 1-207-939-0154


Ben attended St. Lawrence University and graduated with an economics degree. After spending his college years landlocked in upstate New York, Ben was eager to get back on the water. Since graduation, Ben has worked, lived, and raced on an assortment of boats. Ben delivered several boats to the Caribbean, where he later spent time working on boats of all shapes and sizes and racing as a bowman on Kialoa V, an 80' maxi race boat. Prior to joining the ECYS team, Ben was one of three captains running a twelve-boat program. When he wasn't traveling to Europe as shore team manager on a RC44, Ben was running a J122 and a Grand Banks 49 Eastbay, serving as mate on a Lyman Morse 90', and maintaining several center consoles. Given his background, Ben's wide range of skills and unique experiences bring a different perspective to his customers.